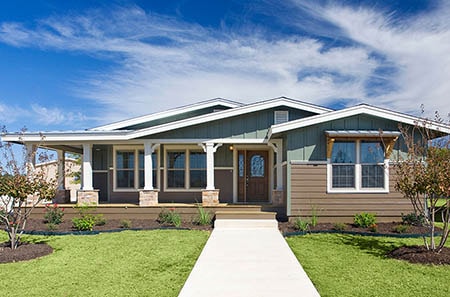 Mobile Home Loan Information Guide & FAQ
Do you have questions about manufactured home loans?  We want to make it easy and we have provided a list of questions that our customers ask daily.
Please take a moment to review some of the frequently asked questions homeowners have about manufactured and mobile home loans before filling out an application.  Don't see what your looking for? Give us a call at (800) 238-9202
---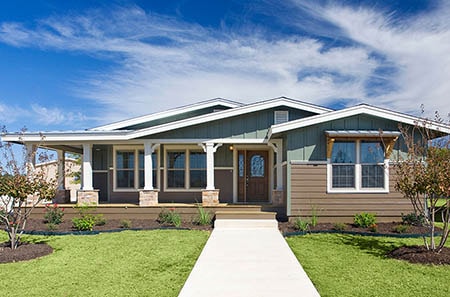 Frequently Asked Questions
Are there fees for the Application Process?
What are the Current Interest Rates?
How much do I need for a Down Payment?
What is the ideal Debt : Income Ratio
What will my loan closing costs be?
Do you offer Single-Wide home loans?
Why is the credit score requirement higher for mobile or manufactured home loans "in-park"?
Do you offer home equity loans on mobile or manufactured homes in "in-park"?
Do you offer insurance for mobile homes?
Do you offer financing for older mobile home loans?
Do you offer loans for non-owner occupied or rental properties?
What is the easiest way to determine if my home is a mobile or manufactured home or a modular home?
How do I find my home serial numbers?
I would like to purchase a brand new mobile home, who should I talk to?
I can't afford 20% to put down on a house?
What is private mortgage insurance (PMI)?
Can I use some of my IRA or 401(k) plan for a down payment?
What's the difference between a fixed and adjustable rate mortgage?
Is a fixed or an adjustable rate mortgage better?
There are no upfront application fees with Financial Services Unlimited. We will pre-qualify your credit at no cost. It is helpful if you know your credit score.

Loan Interest Rates will vary depending on overall credit quality, age of home, collateral type, loan amount, loan-to-value and debt to income ratio.

Most lenders require a minimum of 10% down for a purchase of a pre-owned manufactured or mobile home plus loan closing costs. Brand New Homes have a minimum of 5%. Credit quality, debt to income and loan to value ratios will ultimately determine your required down payment.

Most lenders prefer 31% housing ratio and 45% total debt ratio for the Qualified Mortgage Rules as outlined in the Dodd-Frank Act. Exception may be provided based on low loan-to-value, high credit scores and net disposable income.

We provide loans from many different lenders based on your specific needs. Each lender will charge loan fees that may be paid at closing or financed into your loan based on your home value. Upon pre qualification from the Lender, they will provide us their terms to include origination and loan closing fees so we may share with you.

Yes, we offer Single-Wide home loans "in park", home must be 1977 or newer. The loan amount must meet our minimum loan amount of $25,000.00

No, we only offer 1st mortgage loans, however based on the equity in your home we may be able to refinance your home and provide you additional funds to pay off high interest rate credit cards or to make home improvements.

We provide financing for Manufactured homes built to the HUD standard (June 1976 or newer) the year 1977 is a safe bet to meet HUD Standards. Home built after this period will have metal HUD tags affixed to the home.

No, not at this time.

Mobile or Manufactured Homes are built to HUD standards. All HUD homes have HUD metal tags affixed to the back of each section of home. Modular built structures do not have these tags.

Each home contains a data plate (an 8-1/2" X 12" piece of paper glued to a wall, inside an interior cabinet or closet wall). In cases, homeowners may remove this date plate unknowingly. This plate contains, serial numbers, home energy information, home system information (furnace, hot water heater, stove, etc.)

Assuming you qualify for higher monthly mortgage payments and have excellent credit history, you may qualify for a reduced down payment loan from 5 -15% down. However, you may pay a higher interest rate and loan fees (points) than someone making a larger down payment as the lender has increase loan risk.

With a fixed rate mortgage, the interest rate and the amount you pay each month remain the same over the entire mortgage term, traditionally 15, 20, 30 or 40 years. A number of variations are available, including five- and seven-year fixed rate loans with balloon payments at the end. With an adjustable rate mortgage (ARM), the interest rate fluctuates according to the indexes. Initial interest rates of ARMs are typically offered at a discounted ("teaser") interest rate lower than fixed rate mortgage. Over time, when initial discounts are filtered out, ARM rates will fluctuate as general interest rates go up and down. Different ARMs are tied to different financial indexes, some of which fluctuate up or down more quickly than others. To avoid constant and drastic changes, ARMs typically regulate (cap) how much and how often the interest rate and/or payments can change in a year and over the life of the loan. A number of variations are available for adjustable rate mortgages, including hybrids that change from a fixed to an adjustable rate after a period of years.

It depends. Because interest rates and mortgage options change often, your choice of a fixed or adjustable rate mortgage should depend on: the interest rates and mortgage options available when you're buying a house your view of the future (generally, high inflation will mean ARM rates will go up and lower inflation that they will fall), and how willing you are to take a risk. When mortgage rates are low, a fixed rate mortgage is the best bet for most buyers. Over the next five, ten or thirty years, interest rates are more apt to go up than further down. Even if rates could go a little lower in the short run, an ARM's teaser rate will adjust up soon and you won't gain much. In the long run, ARMs are likely to go up, meaning most buyers will be best off to lock in a favorable fixed rate now and not take the risk of much higher rates later. Keep in mind that lenders not only lend money to purchase homes; they also lend money to refinance homes. If you take out a loan now, and several years from now interest rates have dropped, refinancing will probably make sense.
Send us a message if you have any additional questions or would like more information about a home loan.
Request More Information

Our professional, friendly and informed loan specialists are ready to discuss your financing options.  
Give us a call at (800) 238-9202 or complete the short request form below and we'll be in touch with you right away
.

Financial Services Unlimited, Inc. is an Equal Housing Lender. NMLS #3242

Mobile Home Loan Request: 

Find current rates on mobile home financing programs by completing the form below. If you have experienced bankruptcy, foreclosure, repossession, charge-off or judgments within the last 5 years, or if your credit score is below 650, please visit our 
credit repair
 section before applying. Call
(800) 238-9202
for more info.


We Offer Mobile Home Insurance From Top Providers
Learn More About Mobile Home Insurance & Get A Free Quote. We make it easy to get a quote and sign up for a new policy.
"Not only were we up the creek without a paddle, we had a hole in our canoe! Thanks so much Bruce! Without you, we'd have been sunk."
"I was a little hesitant at first going on-line, but your company performed flawlessly. Thanks for all of your staff's professionalism provided with my "in-park" mfg. home loan."

"You're the Bomb! Brenda, you did a fantastic job on my manufactured home refinance. We appreciate all of your hard work."

"Many thanks for helping us with securing our "in-park" mobile home loan and insurance. Your company was very professional and closed our loan very quickly."

"Many thanks for helping us with our "in-park" mobile home loan and insurance. Your company was very, professional, did exactly what you promised and closed our loan quickly."

"Your company was very attentive to our situation. I would recommend your services to anyone wanting to purchase a mobile or mfg. home."